Digital RESI March 14-16, 2023
Digital RESI March Partnering Opens February 21.
Registrations (with the exception of Audience Access) include:
Access to the Partnering Platform to schedule 1×1 meetings
Access to attend Live Sessions (Innovator's Pitch Challenge, Investor Panels, Workshops & Global Partnering Campaign & Roadshow Preparation Educational Series)
RESI Premier Partnering
Premier partnering provides deep insight into the investors and strategic partners that regularly attend conferences in search of assets to partner with and invest in. Life Science Nation (LSN) produces a world-class investor and strategic partner database to scientist-entrepreneurs and fundraising CEOs, and now attendees can get partial access to that data and review the deep profiles that come with this one-of-a-kind database as part of the partnering experience. This creates better alignment for both sides of the meeting table as the sell-side attendees will now have detailed investment and deal mandate information to help dial in who they need to meet with based on fit.
These investment mandates will be imported from the LSN Investor Platform that has more than 10,000 investors listed. This information is gathered by the LSN Research team, based on one-on-one conversations with the investors and updates gathered every 6 months. Premier partnering is available for an additional fee $500, per company.
Audience Access
​​​​Are you new to RESI or dipping your toe into the world of early-stage life science fundraising? RESI's Audience Access is for attendees who want access to investor panels, entrepreneur workshops, and pitch sessions without active partnering. Audience Access gives an inside look to insightful conversations, valuable education, and interactive content designed for the early-stage entrepreneur. It's rare to find a partnering conference with equally valuable presentations, which is why RESI offers a unique deal for attendees to tailor the experience to their needs and allow for the voices of industry leaders and experts to be heard by all.
Premier Profile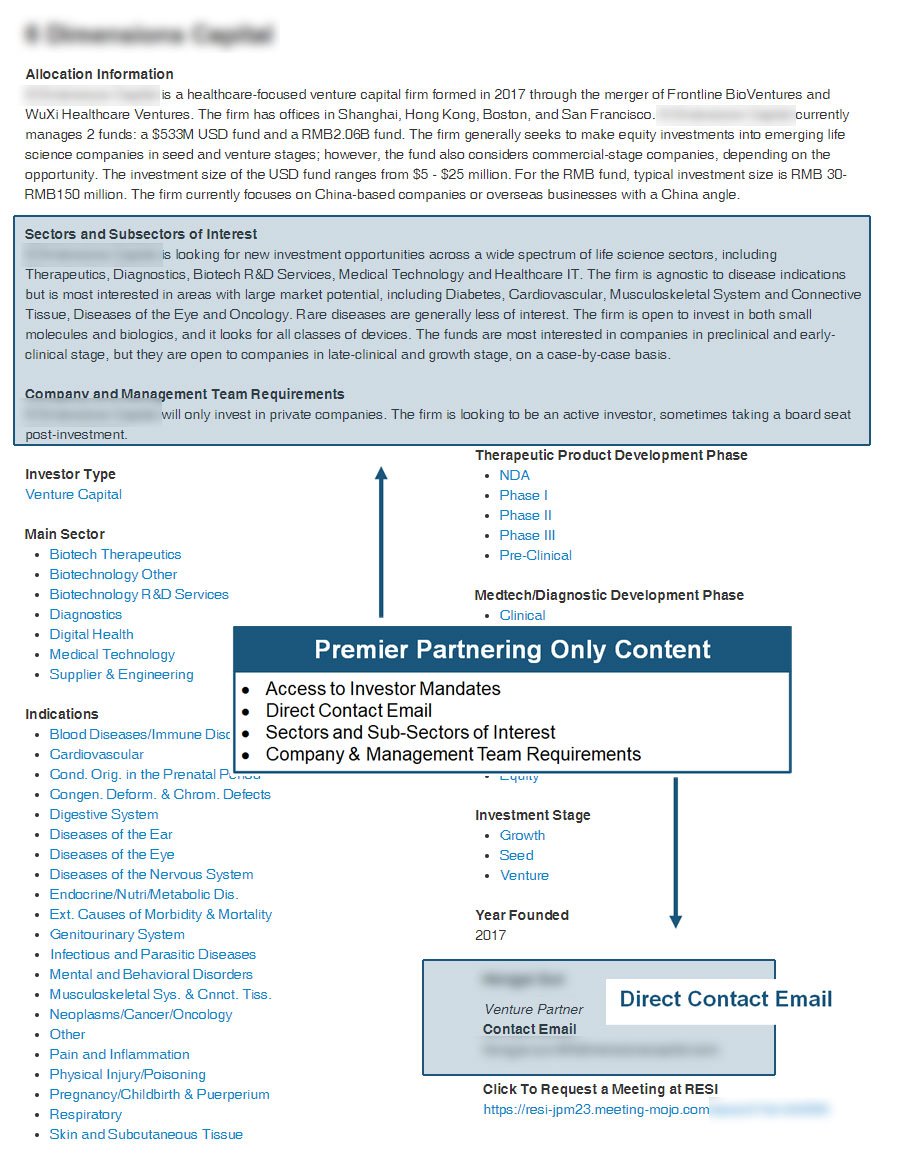 Complimentary Investor Registration Criteria:
Please contact research@lifesciencenation.com to request a complimentary investor code.
Qualified investors include:
Investment staff involved directly in an early-stage life science or healthcare venture capital or private equity fund.

Investment staff at a family office or private wealth fund that invests in life sciences.

External innovation, early-stage partnering, or in-licensing staff from major corporations in the life science and healthcare industry.

Active life science angels or executive staff at angel organizations that invest in early-stage life science companies.

Investment staff and executives at nonprofit organizations, venture philanthropy/impact investment firms, or patient groups that provide funding to startup companies.

Senior management or investment staff from a pension, endowment, foundation, or employee benefit plan currently invested in life sciences.
*An investor who receives complimentary registration is expected to participate in the Partnering System, ideally taking at least four meetings.
**Limit of 2 registrations per investment organization.
Attendees who do not qualify for complimentary registration include:
Broker-dealers, investment bankers, or merchant bankers.

Venture debt investors and other providers of debt financing.

Service providers/consultants to the life science or healthcare industry.

Firms that provide services and/or charge a fee to life science companies in exchange for introductions to investors.

Firms that provide management or development services in return for equity.

Incubators, accelerators, and other startup development programs.
Cancellation Policy: All cancellations must be made in writing via e-mail 30 days prior to the conference date to receive a refund. All refunds will incur a $250 USD administrative fee and will be processed in the original form of payment. No refunds will be issued beyond the 30-day window. Registrations may be transferred to a replacement from your company if the registrant is unable to attend. Alternatively, registration may be transferred to a future RESI event. Please email all cancellation requests to RESI@lifesciencenation.com