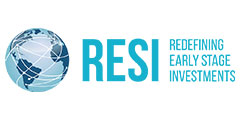 The Redefining Early Stage Investments (RESI) conference series connects start-ups and early-stage investors and strategic channel partners. RESI maximizes fundraising companies' efforts to find partners who are a fit for their technology and stage of development. RESI is uniquely cross-border and cross-domain, connecting start-ups with 10 categories of global investors across the silos of drugs, devices, diagnostics and digital health (4 Ds). RESI caters to both the earliest stage start-ups, those seeking grants, seed and angel capital, and the early-stage firms who seek series A and B funding. RESI is a unique and powerful tool for sourcing assets and advancing innovation across early-stage life science and healthcare.
RESI is committed to facilitating conversations that spark early-stage deals in across drugs, devices, diagnostics, and digital health that save lives and change the world through healthcare innovation. To advance the most successful deals, all major players, including both buyers and sellers, are saved a seat at the table. RESI attracts incubators, tech transfer offices, universities, hospitals, research labs and their constituents getting on the radar of investors and channel partners. Biotech, medtech, diagnostics, and digital health companies source global investors and strategic partners, create relationships, and pitch to secure funding from Seed to Series B.
Investors & Strategic Partners
Investors get a front-row seat to emerging early-stage companies, with direct insight into product pipelines, licensing opportunities, financing rounds, technologies, licensing deals, and management details in order to find the best fit for their theme.
Start-Ups & Fundraising Executives
CEOs gain access to investors and strategic partners actively seeking opportunities that match their product set and stage of development through a match-based partnering system, pitch session opportunities, and industry expert panels.
Deal-making is not just a two-way street. The early-stage arena can be challenging to navigate without the help of law firms, broker-dealers, CROs/CMOs, and consulting services to assist in bringing a bright prospect to market.
Life Science Nation (LSN) was founded to help move science forward and be part of the change that is coming to the life science domain. Capital is the missing ingredient holding back the advancement of life science today. LSN remains dedicated to helping emerging life science companies identify and connect with early-stage investors, and our story has just begun.
Stay Up-to-Date with LSN Newsletters