Innovator's Pitch Challenge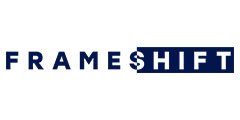 Frameshift Labs is a genomic data visualization company that enables streamlined, collaborative analysis and exploration of complex data. Co-founded by Dr. Alistair Ward, Dr. Chase Miller and Prof. Gabor Marth, Frameshift is a C-corporation headquartered in Cambridge, MA that employs two talented software engineers. Frameshift currently serves academic institutions, rare disease clinics, and newborn intensive care unit (NICU) genome sequencing projects, and supports large NIH-funded national collaborations. These represent the first tier of customers, but as the number of institutions, biotech, and pharmaceutical companies making active use of sequencing data continues to grow, Frameshift's potential customer base is rapidly expanding. Frameshift's focus on highly interactive, customizable data visualization streamlines analysis and collaboration, opening the door for exploration of genome analytics, genetic variant mining, and project management to diverse customer teams.
Frameshift has a successful history with NIH small business grants and collaborative grants with academia, and has a number of recurring customers. We plan on growing this customer base to at least six annually recurring customers by the end of 2023.