Innovator's Pitch Challenge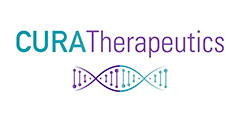 Interested in Connecting? Please contact:
Collin Horner
Co-Founder & Chief Business Officer
collin@curatherapeutics.com
Message the company or request a 1:1 meeting here.
Cura Therapeutics is developing the next wave of immunomodulating therapies for the immuno-oncology market, the infectious disease market, and other undisclosed programs in the discovery phase. Our lead immuno-oncology drug CT101 targets a wide range of solid malignancies with our patented technology that harnesses cytokines and immune receptors to create multi-functional proteins with potent anti-cancer properties. Our lead immunotherapy's ability to target several immune system mechanisms against cancer while disrupting tumour blood supply with a low toxicity profile sets us apart from the competition. In recent milestones, Cura Therapeutics completed its preclinical study; In vitro characterization (MOA), MTD, PK/PD, In vivo studies, and FTO Analysis of our lead drug asset, CT101. Cura Therapeutics is launching its next fundraising round at RESI Boston to fund our IND-enabling studies, GMP manufacturing and Phase 1 Clinical Trials for our lead drug asset CT101, as well as 3 undisclosed assets in preclinical development. We look forward to discussing the results of our studies when we meet at RESI!