Innovator's Pitch Challenge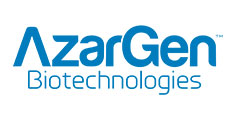 Interested in Connecting? Please contact:
Mauritz Venter
CEO
mauritz@azargen.com
Message the company or request a 1:1 meeting here.
AzarGen is a biotechnology company focused on developing – PRODUCTS – recombinant human surfactant protein-B (targeting respiratory disease associated with surfactant dysfunction) and a plant-made CD20-binding monoclonal antibody for B-cell depletion therapy (targeting autoimmune diseases) using advanced genetic engineering and synthetic biology techniques in plants. AzarGen has developed proprietary synthetic DNA promoters – SYNTHETIC BIOLOGY PLATFORM – enabling enhanced expression in genetically engineered plants for biomanufacturing applications in bio-pharmaceuticals, reagents, diagnostics, cellular agriculture and bio-fuels. AzarGen is the owner of two PATENT families relating to the company's respiratory therapeutic candidate and synthetic promoter technology.