Innovator's Pitch Challenge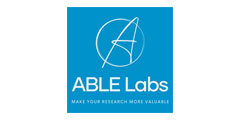 ABLE Labs provides affordable and easy to use liquid handler that help researchers automate biology experiments. Most biology experiments are done by hand, which could cause various human errors. Introduction of robotics in biology research will mitigate human error, which can could cause major reliability issue.
Competitors in current market lack in affordability and versatility. High price ranging from 150k to 300k, and the fact that these robots require trained professionals to operate, everyday researchers were not able to use them.
Our base model robot NOTABLE is 5 to 10 times cheaper and does not require professional engineer to operate. Despite much lower price, we reached on par pipetting performance including accuracy and precision.
Aside from robotic pipette, ABLE Labs also provide various modules for biology experiment such as temperature controller, thermal cycler, plate shaker and UV and ULPA filter for clean bench setup.
Researchers could operate their personal robot on their lab bench, just like using their own computer. With our user interface, researchers can automate their experiments with just a few simple clicks.
ABLE Labs is consisted with 14 bright and passionate people with different backgrounds including biology, engineering and software. Which ensures precise product targeting and agile operation. Established in 2021, ABLE Labs raised $250k in Pre Series A funding as of August 2022, and planning to establish US firm in 2023.