Innovator's Pitch Challenge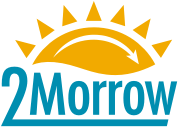 Interested in Connecting? Please contact:
Jo Masterson
Co-Founder & CEO
jmasterson@2morrowinc.com
Message the company or request a 1:1 meeting here.
2Morrow is a digital therapeutic (digital health) company addressing the behavioral, mental and emotional risks of chronic conditions. We already work with some of the nation's largest employers, health plans, and states to help their populations stay healthy. Next up we are creating medical grade DTx treatment and management programs. – Prevention Wellbeing (Wellbeing) – Tobacco Use Disorder (Treatment) – Chronic Pain (Management) With dozens of studies and and Phase 3 RCT, 2Morrow is excited about the power of tech to deliver evidence-based behavioral treatment at scale. 2Morrow was founded by a RN/MBA and a medical device technologist. We have a licensing deal with the Fred Hutch Cancer Center and funding from the NIH to expand R&D.