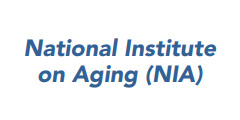 The NIA Small Business Programs manage the largest source of early-stage funding for aging-related research and development (R&D). Each year, NIA provides more than $140 million in R&D grants to small businesses through the Small Business Innovation Research (SBIR) and Small Business Technology Transfer (STTR) programs. NIA has an unprecedented R&D budget to develop interventions that prevent or treat Alzheimer's disease (AD) and AD-related dementias.
Message the company or request a 1:1 meeting here.
NIH SBIR SEED Funding and Entrepreneurial Development Initiatives
September 21 | 4PM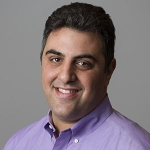 Todd Haim, PhD, Director, Office of Strategic Extramural Programs, National Institute on Aging
Todd Haim, Ph.D., is the Director of the NIA Office of Strategic Extramural Programs (OSEP). He leads a dynamic team focused on coordinating and continuing to enhance NIA's training, career development, and small business research programs. Under Todd's leadership, OSEP continues to expand NIA's career development offerings to ensure that the Institute provides robust support and enables advancement at all career stages. These efforts include fostering development of a broad array of skills to prepare trainees for the varied biomedical career paths ahead. Several OSEP efforts have resulted in increased small business research funding application quantity and quality as well as a significant increase in the resources available to help small business awardees advance toward commercialization, including entrepreneurial training and partnering initiatives. Todd and his team remain committed to increasing diversity across OSEP-coordinated programs and have implemented several initiatives to advance this goal.
Todd's previous position was Program Director at the National Cancer Institute (NCI) SBIR Development Center, where he evaluated and managed cancer-focused SBIR & STTR grants and contracts and played a leadership role in several center initiatives, including workshop development and investor initiatives. Prior to NCI, he was a Christine Mirzayan Science and Technology Policy Fellow at the National Academy of Sciences. Todd graduated from Albert Einstein College of Medicine in January 2007 with a Ph.D. in biomedical research and obtained a certificate in technology commercialization from John Hopkins' Carey Business School in 2011. He also completed a postdoctoral fellowship at Pfizer in which he actively led Pfizer's research efforts in a collaboration with Washington University School of Medicine in St. Louis. He has received several prestigious awards and honors, including the 2014 NCI Leadership Development Award, several NIA, NCI, and NIH Director's Awards, and the New Jersey Governor's Award for Volunteerism in the Field of Health.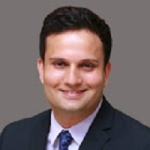 Saroj Regmi, PhD, Program Officer, Office of Strategic Extramural Programs, National Institute on Aging
Saroj Regmi, Ph.D., is a Program Officer for the NIA Office of Strategic Extramural Programs. In his current role, he provides guidance, administers funding, as well as offers networking assistance for small businesses to accelerate Alzheimer's and aging research. He also provides guidance for early-career scientists interested in the K22 Career Transition Award program.
Since joining NIA in 2020, Saroj has played a key role in planning and implementation of several NIA efforts, such as investor-focused initiatives, entrepreneurship-focused programs, and the Business Plan Assessment pilot, among others. He plays an active role in several programs, including technical and business assistance and entrepreneurial training. Saroj represents NIA on the NIH-wide Research Evaluation and Commercialization Hubs (REACH) program, I-Corps at NIH program, and Concept to Clinic: Commercializing Innovation (C3i) program.
Prior to joining NIA, Saroj conducted postdoctoral work at NIH using CRISPR/Cas9-based approaches to study cellular processes. He received his Ph.D. in molecular and cellular biology with a focus on aging from Dartmouth Medical School.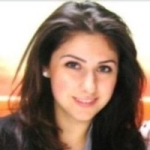 Armineh Ghazarian, Program Analyst, Office of Strategic Extramural Programs, National Institute on Aging
Armineh Ghazarian, M.S.F, is the lead program analyst and portfolio manager at the NIA Office of Strategic Extramural Programs (OSEP). Since joining NIA in 2018, Armineh has served as the portfolio manager for all small business research and training grant awards, networking with key stakeholders and providing guidance to potential applicants. She has focused her efforts on new outreach initiatives, creating and leading the Small Business Innovation Research Contracts initiative at NIA, as well as managing the small business research diversity supplement funding opportunity announcement.
Prior to joining NIA, Armineh worked at Georgetown University writing grant applications for various federal and non-federal grant funding mechanisms for basic science research while managing a grant portfolio of about $100 million. She holds a B.S. in nutritional biochemistry from the University of Maryland, College Park, and a master's degree in biotechnology and finance from Georgetown University.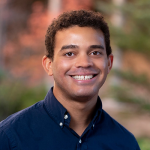 Joshua Hooks, PhD, AAAS Fellow, Office of Strategic Extramural Programs, National Institute on Aging
Joshua Hooks, Ph.D., is an American Association for the Advancement of Science (AAAS) Science and Technology Policy fellow who joined OSEP in August 2022. He is working with the small business team, assisting with various training programs for start-ups and new entrepreneurs. Dr. Hooks is developing programs that will help small businesses and early-stage investigators navigate federal regulatory pathways in order to bring their age-related innovations to market. Additionally, Joshua is working to evaluate and implement programs aimed to diversify the backgrounds and experiences of individuals in aging technology and research.
Prior to starting this fellowship, Dr. Hooks completed a postdoctoral fellowship at Johns Hopkins in biomaterials and immuno-engineering. He completed his Ph.D. in bioengineering with a focus on the lymphatic system in 2019 at Georgia Institute of Technology.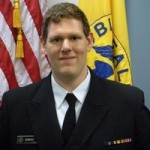 LCDR Michael Banyas, USPHS, MPA, Health Specialists and SBIR/STTR Program Manager, National Institute on Minority Health and Health Disparities
Lieutenant Commander Michael Banyas is a Senior Officer in the U.S. Public Health Service and a Health Specialist in the National Institute of Minority Health Disparities (NIMHD). The mission of NIMHD is to lead the nation's scientific research to improve minority health and reduce health disparities. In his role, he is the Program Director for NIMHD's SBIR/STTR program and oversees an award budget of almost $12.5 million and over 37 awardees. LCDR Banyas specializes in underserved health care and public health systems with a focus on implementation science. Previously, he served as Public Health Analyst in NIH's All of Us Research Program, where he led the Federally Qualified Health Center (FQHC) Pilot Project and Co Led the Tribal Engagement Strategic, as well as operational process improvement.
Additionally, he served as a Project Officer in the Health Resources Services Administration for FQHCs and as the Communications Lead for the Office of Health IT and Quality. Additionally, he served as a Fellow on the U.S. Senate Health, Education, Labor, and Pensions Committee's Health Policy subcommittee and has worked in three academic medical centers. He has a Bachelor of Arts from the University of Vermont, a Masters in Public Administration in Health Management and Policy from New York University's Wagner School of Public Service, graduate work in health informatics from Columbia University, and is currently a Masters of Science candidate at the U.S. Naval War College.