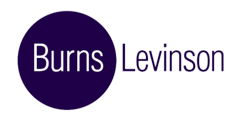 At Burns & Levinson, we provide high-level, client-centric and results-oriented legal services to our regional, national and international clients. We are a full-service law firm with over 125 lawyers in Boston, Denver, Providence, and London. Our areas of expertise include: business/finance, business litigation, divorce/family law, venture capital/emerging companies, employment, estate planning, government investigations, intellectual property, M&A/private equity, probate/trust litigation, and real estate. We partner with our clients to solve their business and personal legal issues in a collaborative, creative and cost-effective way. For more information, visit Burns & Levinson at www.burnslev.com.
Intellectual Property (IP) Workshop & Fireside Chat
Discussion Topics
Economic Frameworks and Impacts: How will AI impact how we innovate and create, produce, and deliver new products and services, and work and engage with one another? How might the new tools and insights offered by AI improve our ability to recommend and assess changes to IP policy?
Patents and Trade Secrets: How can AI-related inventions be protected? What are the challenges that inventors and rights-holders face, whether they are a Fortune 500 company, a start-up, or a nonprofit?
Trademarks: Will AI change the likelihood of confusion and liability? How will it impact the branding of products and the protection of trademarks?
Copyright: Who is the author of AI-generated content? Are such works copyrightable? What policy did implications arise from the use of copyrighted works for the purposes of machine learning?
IP Enforcement: Counterfeit goods make up an estimated $461 billion or 2.5 percent of all global trade. How is AI improving counterfeit detection? And how can we leverage new technologies to solve this age-old problem?
International Perspectives: How are other major economies addressing AI, and in what ways do they differ from the U.S. approach? How do those differences matter to U.S. companies and researchers?
Howard Susser, JD, Partner & Chair, IP Litigation, Burns & Levinson LLP
Howard Susser is a Partner and Chair of IP Litigation in the Firm's Intellectual Property Group. He is also a member of the Firm's Business Litigation, International, Life Sciences and Science & Technology Groups. He has extensive experience in litigation involving patent, trademark, false advertising, unfair competition, copyright, licensing, trade secret, employment and antitrust laws. For over three decades, Howard has litigated intellectual property cases in the nation's courts concerning diverse high tech and life sciences industries. A member of the Patent Bar with an engineering background, Howard advises clients at the intersection of science, technology, and law. He has represented clients in computer hardware and software, telecommunications, electronics, Internet, e-commerce, pharmaceuticals, biotech, medical device, chemicals, and numerous other high and low technology industries as to intellectual property and related matters. Howard has conducted numerous commercial arbitration and mediation proceedings involving intellectual property. If litigation cannot be avoided through alternative dispute resolution techniques or negotiation, he brings a hands-on, detail-oriented style to the table, and develops close client relationships to understand and efficiently achieve a client's business objectives. Howard regularly counsels clients in complex business transactions involving intellectual property assets, including drafting and negotiating research and development, sales and license agreements, and supporting M&A, funding rounds and other due diligence. Howard also counsels clients regarding patent prosecution, and has conducted U.S. Patent & Trademark Office proceedings, including inter partes reviews, patent reexaminations and interferences, as well as trademark oppositions and cancellations.
Mark Schonfeld, JD, Partner, Burns & Levinson LLP
Mark Schonfeld concentrates his practice in complex business and intellectual property litigation, especially protection of corporate intellectual property through effective methods of trademark, copyright and patent litigation. Mark has extensive experience in protecting the world's leading brand names from infringement and is responsible for the seizure of millions of dollars in counterfeit merchandise from distribution centers, retail operations and factories that manufacture counterfeit products. He is highly skilled in preventing and stopping "gray market" imports by using innovative techniques. Mark has conducted software audit raids for major software companies and several of his cases have resulted in federal criminal prosecution. He obtained the first "asset freeze" order in Massachusetts in a trademark counterfeiting case. Mark also serves as counsel to the Imaging Supplies Coalition, an organization formed by prominent computer companies to combat counterfeiting and unfair and deceptive trade practices affecting the computer supplies industry.
Christopher Schultz, JD, Partner, Burns & Levinson LLP
Christopher S. Schultz is a patent attorney who has litigated and counseled clients in intellectual property law for over twenty years and is the head of the firm's Patent Trial and Appeal Board (PTAB) practice. He is an experienced lead trial attorney who has successfully litigated patent and trade secret matters in federal district court, the PTAB, the International Trade Commission (ITC), and the Court of Appeals for the Federal Circuit. Mr. Schultz lectures on patent litigation at the Practicing Law Institute in New York City. Mr. Schultz has a degree in electrical engineering and is skilled on matters involving complex technologies, particularly in computer hardware and software, networking, wireless telecommunications, artificial intelligence, and medical devices. In his counseling practice, Chris advises clients in licensing, due diligence, freedom to operate, portfolio management, patent prosecution, and monetization of IP rights. He also works extensively with startups and venture-backed companies. Prior to becoming an attorney, Chris was a patent examiner in the electrical engineering art. He also served as a full-time intern for the Honorable Randall R. Rader at the U.S. Court of Appeals to the Federal Circuit. In his pro bono work, Chris works on matters with the New England Innocence Project.