MEDICAL DEVICE INVESTORS
Investing in Novel Engineering

This panel focuses on investment in new medical devices from development stage through to early commercialization. Topics may include:
What are investors looking for?

Areas of interest
Overcrowded areas

How to approach an investor
Successful deals they've done before
Common mistakes/Red flags
Panelists will discuss how to meet the challenges of raising financing for a new device and advise startups on how to make the investment case for their novel technology. Panelists will also explore what technology areas are of top interest to them and how a startup can get them into dialogue regarding an investment or deal.
Greg Mannix, Chief Conference Officer, VP of International Business Development, Life Science Nation
Greg Mannix is Chief Conference Officer, Vice President of International Business Development at Life Science Nation. After graduating from the University of California, he moved to Europe where he began a career in the life sciences and obtained a Master's degree from IE Business School in Madrid. He has extensive experience in sales and marketing management in the medical devices field. He has worked extensively in Europe, North America and Latin America and he speaks English, Spanish and French. Greg's role at LSN is to provide international early-stage companies with the tools and strategies to succesfully fundraise and to facilitate cross-boarder investments, licensing and M&A transactions.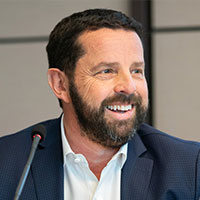 Dr. Laurent Choppe, Managing Partner, Cukierman & Co. Life Sciences
Laurent leads Cukierman & Co. Life Sciences since 2008 and has been involved in more than 100 medtech, biotech and digital health corporate finance transactions and advisory assignments for the Cukierman group. His team works worldwide with venture-backed and middle market companies for fund raising, licensing deals and M&A transactions as well as strategic projects for key life sciences industry players.
Laurent brings an extensive international life sciences experience in managing multifunctional teams and setting up new businesses in pharmaceuticals, medical devices, biotechnology, nutraceuticals, animal health and direct-to-consumer markets.
After a veterinary practice and a new venture management experience, he worked 10 years in Schering-Plough (acquired by Merck & Co.) in marketing positions in dermatology, allergy, respiratory and animal health in France, General Manager in Israel and Vice President, Virology, Oncology and Cardiology in Canada. He then served 4 years as General Manager at Bellus Health (ex-Neurochem, NASDAQ & TSE, dedicated to Alzheimer's disease).
Dr. Choppe is a Doctor of Veterinary Medicine of the University Paris XII, laureate of the École Nationale Vétérinaire d'Alfort, CES of Veterinary Ophthalmology and earned a MBA from INSEAD (Fontainebleau, France). He is married, father of three, grandfather of one and lives in Lausanne (Switzerland) and Tel Aviv (Israel).
William Dai, Founding Partner, ShangBay Capital
William Dai is the Founding Partner at ShangBay Capital, a VC firm focusing on healthcare investments. ShangBay Capital has built a portfolio of companies founded by Stanford, Berkeley, Duke, Harvard, MIT, UNC – Chapel Hill faculties and graduates as well as top industry corporate alumni. William has more than 20 years of experience in corporate finance, M&A, and capital markets in both China and the U.S. He has held senior executive roles at U.S. multinational companies. In those roles, William was responsible for overall execution and was held accountable to the highest ethical standards in his business dealings. In addition, due to his hands-on experience leading multiple large international medical device companies, he has an in-depth knowledge of the industry and its market dynamics. William holds a Master's in business administration with an emphasis on finance from Michigan State University.
Benedikt Luhmann, Principal – Healthcare, VI Partners
Benedikt joined VI Partners in 2018 as Principal focusing on Life Sciences/ Healthcare investments. In his previous career, Benedikt build and grew a digital health start-up as COO, he provided advise as consultant of international strategy consultant firms (i.a. Boston Consulting Group) on product development and commercial strategy to medical device and pharmaceutical companies. In addition, he served as assistant to the management of a European hospital company and focused as scientist of a university hospital on oncology research. He is closely involved in many investments, like Inositec, Altoida, and iOnctura as well as completed transactions, like Amal Therapeutics. In addition, he serves pro bono on boards of various organizations such as OneBio. Benedikt received a graduate (MD/ PhD) in medicine from the University of Kiel after studying medicine at the University of Kiel, University of Cape Town, Yale University and Harvard University. His PhD thesis addressed oncology/ cancer biology. Benedikt has authored articles in leading scientific publications, including Leukemia (Nature Publishing Group).
Norm Gitis, Founder, Managing Partner, Lymo Ventures
Norm has a Ph.D. in engineering, was a visiting professor at MIT, advisory engineer at IBM, engineering manager at Maxtor. He founded and led a high-tech company making scientific instrumentation and became a Silicon Valley entrepreneur. After selling the company with multiple offers, he founded a multi-family office, which actively invests in start-ups, mostly in California and New England. Currently, Lymo Ventures has an active portfolio of 17 companies, about three quarters of them are in med-tech.
Norm chairs Boards of directors of two med-tech companies, serves on a Board of a medical diagnostics company, is an active mentor of numerous start-up companies, managing partner of the multi-family office, and a member of screening committees of prominent angel associations in Silicon Valley, including Band of Angels and Life Science Angels.