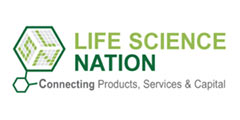 Life Science Nation (LSN) is a global partnering ecosystem that allows early-stage companies with compelling technology assets to get plugged into the early-stage investor and channel partner's radars with minimal cost and a big ROI. LSN is a global matching platform for early-stage buyers and sellers across the domains of Drugs, Devices, Diagnostics and Digital Health – the "4 Ds". LSN curates two databases: a buy-side of global cross-border early-stage investors/partners and a sell-side of global cross-domain technology assets. LSN also offers a sourcing and ranking service for clients who need to source and rank technology assets for channel, pipeline and portfolio development. LSN owns and operates the Redefining Early Stage Investments (RESI) conference series, a funding superstructure that runs five times a year during J.P. Morgan in San Francisco (January), alongside BIO Europe (March), alongside BIO U.S (June), Boston (September) and Asia in Shanghai and Taipei (November). LSN also owns and operates the Focus on Cures Accelerator (FOC) that provides international startups a Boston-based footprint and helps them develop and execute a global investor and channel partner strategy. Learn more at www.lifesciencenation.com
The Fundraising Boot Camp provides a top-to-bottom master class on outbound global fundraising. Topics to be covered include the Changing Investor Landscape, New Categories of Life Science Investors, Debunking the Top 10 Old Myths in Fundraising, Planning & Infrastructure for an Outbound Fundraising Campaign, Building Your Brand Through Consistent Messaging and Key Components of Fundraising Marketing Collateral. It will bring you step-by-step through the processes of positioning, marketing collateral, website creation, branding & messaging, and how to reach out to a list of global investors.
Greg Mannix, VP of International Business Development, Life Science Nation
Karen Deyo, Director of Investor Research, Israel BD, Strategic Projects, Life Science Nation
Greg Mannix, VP of International Business Development, Life Science Nation
Greg Mannix is Vice President of International Business Development at Life Science Nation. After graduating from the University of California, he moved to Europe where he began a career in the life sciences and obtained a Master's degree from IE Business School in Madrid. He has extensive experience in sales and marketing management in the medical devices field. He has worked extensively in Europe, North America and Latin America and he speaks English, Spanish and French. Greg's role at LSN is to provide international early-stage companies with the tools and strategies to successfully fundraise and to facilitate cross-border investments, licensing and M&A transactions.
Karen Deyo, Director of Investor Research, Israel BD, Strategic Projects, Life Science Nation
Karen Deyo is the Director of Investor Research, Israel BD, Strategic Projects at Life Science Nation. In addition to her role curating the LSN Investor Platform, she is actively involved in Israel BD, utilizing her professional and personal connections to connect LSN to the Israeli life sciences startup community. She has also been involved in evaluating companies for the Innovation and Pitch Challenges for LSN's RESI conference series, evaluating several hundred companies since joining LSN. Additionally, Karen manages LSN's Partnering Platform across all its conferences, and is involved in LSN's Branding and Messaging services, helping emerging companies refine their marketing collateral to aid in successful fundraising campaigns. Karen has a Masters of Engineering in Biomedical Engineering as well as a Certificate in Graduate Business Study from Worcester Polytechnic Institute and a Bachelor of Science degree in Engineering with a concentration in Bioengineering from Olin College of Engineering.
Sourcing and Developing Global Partnerships
Sourcing and developing relationships with investors and strategic licensing partners is a fundamental ongoing process, and is a critical part of any global partnering campaign. It takes 9-18 months and the strategy is to find equity and licensing partners that are a fit for your stage of development and products and get on their radar screens. You need to get a global target list of potential partners and go after them. Whether an opportunity for your current campaign, or a future one, or even if they can introduce you to another interested party ( a pointer), cultivating these relationships is how it is done and what works.
How do you know which investors are your best targets?
How do you make your first meeting a success, making the best possible impression?
This session will go over how to identify which investors are the best fit for you and how to nail your first meeting, to improve your chances of building a lasting relationship.
Karen Deyo, Director of Investor Research, Israel BD, Strategic Projects, Life Science Nation
Ashley Zborowski, Director of Business Development, Life Science Nation
Branding & Messaging
To win capital, you must stand out from the crowd. The first way to do that is to have top-notch marketing collateral. The workshop discusses how to provide potential investors with high-quality, professional materials—materials that engage them, communicate your message clearly and concisely, and present the information they want to see in a way that helps them to decide quickly and easily if you are a potential fit for their needs.