BIG PHARMA

Pipeline Strategy for Preclinical and Early Clinical Assets
In recent years, big pharma companies have begun looking outwards for innovative new therapeutics to add to their pipelines. This panel brings together speakers from various big pharma companies discussing topics such as:
How big pharma sources assets
The evaluation and investment process
Key factors of interest
How early-stage big pharma is willing to look
These panelists will shed light on the process that big pharma goes through when sourcing early-stage assets and advise startups on how they can best make a case for themselves. Panelists will also explore various trends within the therapeutics marketplace, what assets are of interest to their company, and what they think will be big in the future.
Natalia Novac, Senior Director, Venture Science, Corporate Business Development, Eli Lilly & Co (Moderator)
Natalia Novac is a Senior Director in Emerging Technology and Innovation Team at Eli Lilly Corporate Business Development in London and is responsible for search and evaluation of novel transformative healthcare technologies across all Eli Lilly indications in Europe. In her role, Natalia is also involved in the scientific evaluation of novel life science assets coming from several venture funds where Eli Lilly participates as a limited partner. As a part of Global Corporate Business Development Natal ia supports general due diligence and deal process ensuring that scientific excellence and breakthrough technologies are not overlooked.
Natalia worked in the pharmaceutical industry for the past 15 years and has a solid academic background in oncology, endocrinology, immunology and multiple sclerosis. Natalia has a Diploma in Biochemistry, MSc in Microbiology and PhD in Molecular Biology.
Chris Paschall, Director, Technology Partnerships, Business Development & Licensing & Open Innovation, Bayer
Chris Paschall, Ph.D., CLP, RTTP, is the Director of Technology Partnerships in the Open Innovation Center at Bayer where he is responsible for managing multiple research alliances and engaging in the early-stage ecosystem. Prior to joining Bayer in November 2020, Chris was the Executive Director of Licensing at The Ohio State University's Technology Commercialization Office (TCO), a Licensing Manager for the University of Virginia Licensing & Ventures Group, a Licensing Associate in the Emory Office of Technology Transfer and a Licensing Associate at the U.Va. Patent Foundation. In 2008, he became a registered patent agent with the U.S. Patent and Trademark Office, in 2010, he became a Certified Licensing Professional, and in 2018, he became a Registered Technology Transfer Professional. Chris has nearly fifteen years commercializing technologies in pharmaceuticals, biotech, medical devices, and engineering, having negotiated almost 200 licensing deals, including four of the five largest licensing transactions ever executed at The Ohio State University. Chris received his doctorate in biomedical engineering from the University of Virginia, where his research focused on leukocyte adhesion in inflammatory responses and its application to targeted drug delivery, as well as his bachelor of science in chemical engineering, also from the University of Virginia.
Nathalie ter Wengel, European Lead, Worldwide Business Development, Pfizer Inc.
Nathalie ter Wengel M.D. is the European Lead Worldwide Business Development at Pfizer, where she is responsible for establishing new collaborations and exploring global licensing and other corporate development opportunities across all therapeutic areas that Pfizer is interested in with European companies. Previous to this role, she was the European Head for External Science & Innovation at Pfizer. Nathalie obtained her Doctor of Medicine degree at the Vrije Universiteit in Amsterdam. She has an international background and a broad knowledge in the medical field, having worked in the hospital with extensive experience in Internal Medicine. Nathalie started her commercial career as European Medical Manager at Pfizer, where she successfully led ambitious international projects, combining a business perspective with her medical knowledge. It was this experience, coupled with her father's illness that convinced her of the urgent need for change in the pharmaceutical industry. Consequently, she started up a company called myTomorrows focused on compassionate use, where she served as Chief Medical Officer before joining Galapagos as Business Development Director, where she played a key role in the very successful NASDAQ IPO and in the partnering of filgotinib.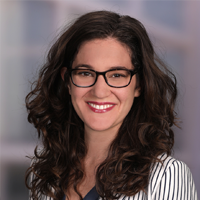 Amanda Mason, Director, Global Head of Inflammation Search & Evaluation, Business Development, Amgen
Amanda leads Search & Evaluate for the Inflammation therapeutic area at Amgen, which includes diseases across pulmonology, allergy/immunology, dermatology, gastroenterology, and rheumatology. In this role, she is responsible for opportunity identification, technical due diligence, and deal execution across all asset stages and modalities.
Prior to joining Amgen in 2019, Amanda worked at the University of Southern California where she co-founded a new team responsible for early technology evaluation and biotech entrepreneurship. Previously, Amanda worked at Bain as a management consultant focusing on business development and strategy for biopharma clients. She has served as an adviser or consultant to multiple venture capital firms including Clarus Ventures (now part of Blackstone) and WaveMaker 360 Health. Amanda has a PhD in Developmental and Stem Cell Biology from the University of California San Francisco and an AB in Molecular and Cellular Biology from Harvard University, where she graduated summa cum laude. In her spare time, Amanda is an avid ceramic artist and scuba diver.