EARLY STAGE THERAPEUTICS INVESTORS
Bringing the Newest Therapies to the Clinic

This panel aims to bring a diverse group of experts & senior decision making staff from VCs, corporate pharma, and other investor types together to discuss topics such as:
How they make decisions
What can startups do to be more attractive?
Areas of high need
Overcrowded areas
Common mistakes/red flags
The moderator will guide the discussion through topics including how the investors source & vet novel therapeutic assets, what kinds of technology are of interest to them right now, and how they as investors work with a startup to move a new drug toward commercialization.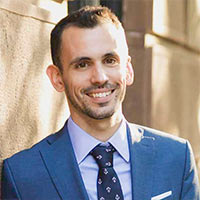 João Ribas, Associate, Novo Holdings A/S (Moderator)
João joined Novo Seeds in 2018 as an Associate. Before joining Novo, João was an Analyst at M Ventures, the corporate venture capital arm of Merck KGaA. There he was involved in the entire investment process, from sourcing deals to selecting investment opportunities and performing due diligence. Before that, João started several ventures in the US and Europe. In the US, he helped start a technology company and was part of MIT Hacking Medicine, an organization that promotes healthcare innovation around the world. In Europe, he was an Innovation Fellow at the European Institute of Innovation and Technology and co-founded a medical device company. João holds a Ph.D. from the University of Coimbra, and conducted his research in Boston, at Harvard Medical School and Brigham and Women's Hospital. He currently runs and hosts a podcast to bring visionary outlooks of the future.
Chris Haskell, VP, Head of West Coast Innovation Center, Bayer
Dr. Chris Haskell leads Bayer's West Coast Innovation Center, supporting Bayer's Drug Discovery activities by developing and managing partnerships with US companies and academia. Haskell is also responsible for the CoLaborator, a biotech incubator space which houses a number of startup life science firms, fostering collaboration between Bayer and emerging innovators. Haskell is also board chair emeritus and current board member of CLSI. After his graduate work at the UC-Davis and a postdoctoral fellowship at The Gladstone Institute, Haskell joined the Immunology group at Berlex Biosciences. Since joining Bayer in 2007, Haskell has served in various roles, including the Acting Head of Applied Research, responsible for hemostasis research and drug development. In late 2009, Haskell was named head of Bayer's Science Hub. In 2017, he assumed oversight for the West Coast Innovation Center.
Meghan Zubradt, Senior Manager, Transactions, Johnson & Johnson Innovation
Meghan Zubradt is Senior Manager of Transactions at the Johnson & Johnson Innovation Center in California. In this role, she is responsible for negotiating and securing deals for early-stage innovation, focused on opportunities in areas of strategic interest across the West North America, Australia and New Zealand region. Meghan joined Johnson & Johnson Innovation from her previous role as the Director of Business Development at a UCSF-affiliated oncology start‐up, which develops bispecific antibodies for the treatment of solid tumors, and was responsible for the company's long‐term strategy, fundraising efforts, project management, and legal. Previously, Meghan led alliance management and business development for the Office of Strategic Alliances at UCSF. Her portfolio spanned therapeutic areas with the strongest emphasis in oncology, immunology, and neuroscience, and she specialized in complex preclinical deals with multiple projects, partners, and universities, including the university's largest publicly disclosed partnerships with Celgene/BMS, AbbVie, Amgen, Pfizer, and GSK. Meghan received her Ph.D. in Biomedical Sciences from UCSF where she was a Genentech Fellow and NSF Graduate Research Fellow in the laboratory of Jonathan Weissman. She holds a BS in Biology from Brown University.
Catello Somma, Associate, TVM Capital Life Science
Catello Somma, MBA, joined the TVM Capital Life Science team in January 2020. He is active in deal flow generation, investment due diligence, deal and exit transactions, investor communication as well as fundraising support. Catello is biotech start-up founder with more than ten years of clinical development and corporate development experience. Prior to this role, Catello worked for a mid-cap biotech where he supported the development of immuno-oncology assets, both internal and in partnership with big pharma, and the preparatory work for a successful licensing in opportunity. Catello holds an MSc in Molecular biology and an MBA with major in finance.
Ivan Burkov, Senior Associate, INKEF Capital
Ivan is a Senior Associate in the INKEF Healthcare investment team. He joined the fund in January 2019 after graduating with his MBA from INSEAD. Trained as a biological scientist, Ivan holds a PhD in Genetics from the Institute of Cytology and Genetics (Novosibirsk) and has 10 years of experience in applied and fundamental biological research. That includes 2.5 years as a Marie Sklodowska-Curie actions postdoctoral fellow at the Institute for Research in Biomedicine (Barcelona). Then, Ivan joined Sanofi's Eurasian affiliate, where he worked in strategy and business development roles. He has also advised startups in the biotechnology and digital-health space and was an intern at Forbion Capital Partners.