Service Provider Showcase
We are a mid-size CRO with a consultative approach, ready to provide insight and recommendations to sponsors for the issues that inevitable arise during complex clinical trials. We have a strong track record for advising sponsors through the product development process, working closely to provide customized solutions for each unique clinical study.
Our mission is to expedite patient access to safe and effective clinical products.
Patrick Burke
Senior Director of Business Development
patrickb@amarexcro.com
Workshop – LIVE! Tuesday, June 8 | 12:30 PM EDT
Approaches to Expediting U.S. FDA Submissions/Trial Initiations & Acceptance of Foreign Data by the U.S. FDA
Dr. Kazem Kazempour, President & CEO, Amarex Clinical Research, LLC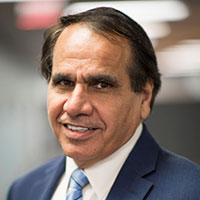 Sponsors who submit investigational new drug (IND) or investigational device exemption (IDE) applications to the U.S. FDA receive many benefits for their clinical products. These include fast turn-around time from submission to trial approval, the ability to submit in parallel to regulatory agencies outside of the U.S., guidance from the FDA at no cost, access to accelerated approval pathways when applicable, and preparation for approval in other countries. Taking advantage of all available FDA approval pathways is a key factor in successfully expediting clinical product development. Once the FDA deems an IND/IDE as safe to proceed, effective clinical trial strategies that take advantage of all regulatory pathways are paramount to reducing time to market approval. Adaptive trial designs and parallel processes are major components to consider at the trial design and conduct stages. Non-U.S. generated clinical data is accepted by the U.S. FDA, but with provisions, and allows for starting trials in the U.S. at a later stage in the process. Acceptance criteria exist to help sponsors use clinical data from outside the U.S. and knowledge of practical issues, e.g., regulatory, logistical, scientific, and administrative, are essential.
AMAREX CORPORATE BROCHURE 2021