Innovator's Pitch Challenge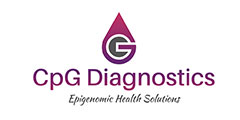 Interested in Connecting? Please contact:
Bodour Salhia
Founder and CEO
bodoursal@gmail.com
Message the company or request a 1:1 meeting here.
Women who develop pelvic masses face the fear and uncertainty of ovarian cancer. Every year tens of thousands of women undergo surgery to remove pelvic masses – the only way to confirm ovarian cancer. Many surgeries are unnecessary, as most pelvic masses are benign. Unfortunately, women could be robbed of their fertility and may face surgical complications. To solve this problem, CpG Diagnostics is developing OvaPrint™, a cell-free (cf)DNA methylation liquid biopsy that can detect ovarian cancer pre-operatively at its earliest stages and differentiate benign from malignant masses. OvaPrint™ will help many women by ensuring they are being appropriately selected for surgery.
OvaPrint was developed using a proprietary and innovative strategy that combines discovery-based genome-wide DNA methylation analysis, target selection and targeted validation. In addition, OvaPrint™ was developed to specifically enhance detection of early-stage ovarian cancer, which is where there is the greatest need. As such, OvaPrint™ has the highest sensitivity and specificity of any test on the market to distinguish early-stage ovarian cancer from benign pelvic masses. Historically, biomarkers attempted for the diagnosis of ovarian cancer are derived and evaluated using samples from patients with clinically diagnosed and often late-stage cancer, making previous attempts for diagnostic and screening tests unsuccessful. OvaPrint's ability to distinguish a wide variety of benign tumors such as endometriosis and borderline ovarian tumors sets it apart from existing methods. Lastly, OvaPrint™ is packaged as a single test, which increases accuracy and reduces overhead cost. Competitors in the market currently combine multiple assays into a single analysis which decreases confidence in the results and complicates the data collection process. OvaPrint™ could be a transforming ovarian cancer-specific diagnostic and general screening test leading to improved surgical planning, better patient management and improved overall quality of life for women living with the uncertainty of a pelvic mass.