FAMILY OFFICES

How Do Family Offices View Seed & Series A Rounds?
This panel focusing on understanding how family offices view direct investments in early-stage healthcare opportunities (seed – series A) and how the differ/compare to VCs. Topics may include:
Primary differences between institutional VCs and family office investors
How family offices source investments / how to get on their radar
Trends in the early-stage healthcare investment space
The primary goal of this panel is to help entrepreneurs understand how family offices view early-stage investments in the healthcare space and best practices for approaching, pitching and working with these groups as well as debunking some common misconceptions about family offices.
Scott Weiner, Partner, Amzak Health (Moderator)
Scott joined Amzak Health in 2020 and leads the Firm's activities to expand and manage its biotech portfolio. Prior to that he was a Partner at Pappas Capital where he spent 13 years focused on life science venture investing. Scott was previously an investment manager and research analyst for Silverback Asset Management's life science fund where he focused on healthcare securities investing. Before joining Silverback, he spent three years at Chicago Growth Partners focused on healthcare venture investments, and prior to that, he spent three and a half years in investment backing at Lehman Brothers where he worked in New York, London and Hong Kong. Scott has been a buy side investor in the life science sector for over 18 years and has been involved in over 30 venture transactions including Achillion (NASDAQ: ACHN), Inhibitex (NASDAQ: INHX, acquired by Bristol-Myers Squibb), Milestone Pharmaceuticals (NASDAQ: MIST), Plexxikon (acquired by Daiichi Sankyo), Rotation Medical (acquired by Smith & Nephew) and TESARO (NASDAQ: TSRO, acquired by GSK)
Scott received an MBA from Duke University's Fuqua School of Business and a BS in Biological Anthropology and Anatomy from Duke University.
Sam Goldberger, Co-Founder & Managing Partner, Ambit Health Ventures
Dr. Sam Goldberger is an ophthalmologist in Newton, Massachusetts and is affiliated with multiple hospitals in the area. He has been in practice for more than 20 years. He is a healthcare and life science investor and the managing partner at Ambit Health Ventures, a boutique healthcare innovation venture capital firm focused on investments in early-stage digital health, healthcare services, and Medtech with the aim to improve healthcare through portfolio companies' innovation while achieving financial gain for investors.
Sherry Grisewood, Senior Investment Officer, FoxHill Asset Management
Sherry has extensive Wall Street professional experience in banking, corporate advisory and research capacities primarily for early stage life science and related technology companies with particular focus in therapeutic areas where there is an intersection of technologies.
Sherry currently chairs the Audit Committee and is a member of the Compensation Committee for Tapimmune, Inc., and sits on the Board of Oncolix, Inc., both public companies, and Mobitech Regenerative Medicine, Inc., a private orthopedics device company. Sherry holds FINRA general securities, investment banking and research principals licenses, is a member of the CFA Institute, TERMIS, ASGCT, Women in Bio and the Jazz Society of New Jersey.
Nadav Shimoni, Head, Digital Health, Arkin Holdings Ltd
Dr. Nadav Shimoni joined Arkin Holdings in 2020 as head of Digital Health sector. He comes from a diverse background combining experience in medicine together with venture capital, business development, and deep technological project/product management.
Dr. Shimoni is a physician by training, previously the Director of Hospital Business Development at Clalit Health Services, Israel's largest integrated payer-provider system, governing one of the world's largest and richest longitudinal healthcare database. In parallel, he conducted research in public health focusing on implementation of data/AI-driven solutions in the clinical workflow.
Dr. Shimoni is the founder of 81 HealthTech Network, a 250-members community for IDF intelligence core technological unit alumni active in the HealthTech sector. In his prior positions he served as Head of Business Development at Rambam Medical Center while practicing internal medicine and as an Associate at Accelmed, VC & PE medical device investment firm.
He holds M.D. from Ben Gurion University, Magna Cum Laude.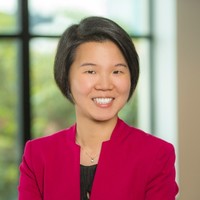 Hannah Chang, Managing Director, Wu Capital
Hannah Chang is a managing director at Wu Capital. She focuses on early-stage biopharmaceutical investments out of the firm's San Francisco office which she leads. Representative investments include Semma Therapeutics (acquired by Vertex Pharmaceuticals), Akouos (Nasdaq: AKUS), PACT Pharma and Gemini Therapeutics.
She was previously an investment professional at 5AM Ventures where she helped found IDEAYA Biosciences (Nasdaq: IDYA) and served as a board observer for Crinetics Pharmaceuticals (Nasdaq: CRNX). Earlier in her career Dr. Chang was a project leader at Boston Consulting Group and a member of the Healthcare Practice.
Dr. Chang obtained her M.D. from Harvard Medical School, Ph.D. in Biophysics from Harvard University and B.A. in Chemistry from Princeton University. She trained clinically in internal medicine and ophthalmology at the Beth Israel Deaconess Medical Center and Massachusetts Eye and Ear Infirmary, respectively. She is a licensed physician in the District of Columbia.