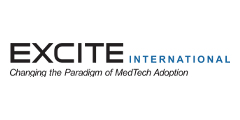 EXCITE International is a not-for-profit created by a group of payers, scientists, Health systems and MedTech companies to deal with the serious market adoption challenges faced by innovators of breakthrough non-drug medical technologies. Challenges which are highly prevalent for many breakthrough technologies even when they achieve regulatory approval, they still face a high risk of rejection by payers or slow market adoption rates
In response, EXCITE International developed an approach that allows innovators to have early direct engagement with payers and health professionals to obtain advice to de-risk the pathway to adoption through achieving a deeper understanding of how to align their clinical evidence development program to the needs and perspectives of payers and key adoption decision makers.
Please view our brief video and/or review our pitch deck (below) to find out more about EXCITE International's innovative, confidential offerings designed to assist Innovators in further developing their non-drug health technologies in ways which align with the perspectives of payers', health systems, and expert end-users.
I also encourage you to request a meeting during the conference by clicking the link below or also feel free to e-mail me at brianlewis@exciteinternational.com to request a meeting outside of the conference.
Brian Lewis
"EXCITE International is a coordination of emerging global efforts to solve a known and frustrating health technology problem:
promising breakthrough innovations are taking too long to get to market.
A not-for-profit initiative, EXCITE International will succeed through broad-based global collaboration, strong partnerships and its capable leadership and staff."
Dr. Leslie Levin, CEO and Chief Scientific Officer, EXCITE International