Innovator's Pitch Challenge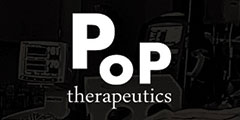 Interested in Connecting? Please contact:
Anuj Singhal
CEO/Group Leader
ajsinghal@poptherapeutics.org
Message the company or request a 1:1 meeting here.
Business: PoP is a pre-clinical stage biopharma company with a pancreatic cancer lead small molecule, PBD-407, that is inhibiting a new biological target, ANGPTL4 (NIH funded).
Mission: Create better drugs by putting patients first. Highly targeted and more affordable drugs will be a priority at PoP.
Problem: Pancreatic cancer (PAC) patients have only a 10%, 5-year survival rate.
Solution: PoP has developed a strong lead, PBD-407, based on our co-crystal structure of cANGPTL4. In vitro binding was confirmed through biolayer interferometry and co-crystallization. In vitro potency demonstrated in MDC PAC cell lines and patient derived organoids (1.0 – 2.7 uM). In vivo efficacy has been demonstrated through organoid xenografts in Ncr/SCID mice, which showed 50% tumor growth reduction with PBD-407 alone. We plan to develop our IND data package in conjunction with the FDA for a combination therapy with this fundraise to allow an IND submission in 30 months.
In addition, PoP has developed a metagenomics-based (utilizing environmental DNA) natural product discovery platform called EDeN (extremophile-derived natural products). PoP has found that geothermal samples contain very high rates of novelty in terms of both microbial species and their natural products. Natural products make up over 80% of antimicrobial drugs and 30% of all drugs, but discovery has slowed greatly because of high rediscovery rates from current natural product discovery platforms. With EDeN, PoP is able to discover natural products based on desired bioactivity or ligand binding to a target protein.