DIAGNOSTICS INVESTORS
New Generation of Technologies Changing Treatment Paradigms

This panel focuses on investments in innovative diagnostics, ranging from IVD, genomics, precision medicine, and more. Topics may include:
Current areas of interest
Current challenges in this ecosystem – Navigating the competitive landscape
Commonly observed red flags
Successful deals
Panelists will discuss how companies can successfully fundraise for their budding diagnostics technology and the best way to successfully approach and develop a relationship with relevant investors. Panelists will also explore current areas of interest and why they are relevant, as well as developmental and regulatory hurdles and how companies can address these problems to attain key milestones.
Nola Masterson, Managing Director, Science Futures (Moderator)
Nola Masterson is Managing Director of Science Futures LLC. Science Futures is a 26 year old investment and advisory firm. Ms. Masterson is a biotechnology industry leader and forward thinker with more than 32 years of business experience in the life sciences industry and in venture capital investment. From 2000 to 2005, she was a Venture Partner with TVM Capital GmbH, one of the first and largest venture capital firms in Germany. She was a co-founder and President of Sequenom, Inc., a DNA sequencing company which went public on Nasdaq in 2000, and wrote the first business plans for IDEC and Insight Vision, as a consultant to Kleiner Perkins Caufield & Byers, and for ReSound, with Dr. Rodney Perkins, the founder of ReSound. She was the first biotech analyst on Wall Street for Drexel Burnham and Merrill Lynch.
Ms. Masterson is a member of the Board of Directors of Repros Therapeutics Inc. (RPRX) and Generex Biotechnology Corporation (GNBT), both Nasdaq-traded companies, and serves on the Audit Committee and Compensation Committee of both companies. She also is on the Board of Directors of Omicia, Inc., an early-stage pharmaco-genomics company. She is Chairwoman of the BayBio Institute, a non-profit organization serving the Northern California life sciences industry by focusing on best practices, entrepreneurship, workforce development and science education, and also serves on the Board of Advisors to Astia, a non-profit organization dedicated to advancing women entrepreneurs. She also is on the Board of Advisors of the Professional Women's Healthcare Alliance and of BioAgenda. She is a graduate of the Stanford Law School Board of Directors College course.
In 2003, she was included in Irish America magazine's annual "Business 100" and received the Alumni Achievement Award from Marymount College at Fordham University in 2004.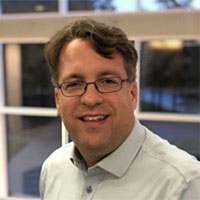 Stephen Pitt, Head of JLABS @ US North East, NYC, Boston, & Philadelphia
Stephen Pitt, Ph.D. is the Head of Johnson & Johnson Innovation, JLABS US North East which includes the JLABS @ NYC, JPOD @ Boston, JLABS @ LabCentral, JLABS @ M2D2 and JPOD @ Philadelphia. He is responsible for external engagement, innovation sourcing, company onboarding, portfolio management, operational excellence, educational programming and P&L. He catalyzes and supports the translation of science and technology into valuable solutions for patients and consumers across the pharmaceutical, medical device, consumer and healthtech sectors.
Steve joins JLABS from GlaxoSmithKline, where he was Senior Director of Emerging Science Innovation and Head of the Digital Innovation Hub R&D Team. At GSK, Steve led externally focused R&D teams that shifted pipeline strategies from basic symptom relief to holistic disease management to transform self-care. He also created partnerships with academic institutions, start-ups, corporate partners, hospital systems, and other novel outsourcing collaborators with the aim to build breakthrough technology platforms and products.
Prior to GSK, he continually increased his responsibility as an R&D leader over 15 years in drug discovery, pharmaceutical development and consumer healthcare at Johnson & Johnson, Pfizer, Bayer, and in biotech. His experiences include drug discovery and advancing compounds to clinical trials, pharmaceutical development and commercialization of novel Rx Drugs, and consumer health product development in upstream innovation groups to shape and launch new external technologies.
Steve earned his Ph.D. in Molecular Pharmacology from Cornell Medical School and Memorial Sloan Kettering Cancer Center in New York City. At Cornell, Steve pioneered computational molecular dynamic drug discovery approaches. He also holds several patents and has published in top scientific journals.
Josh Phillips, Managing Partner Catalyst Health Ventures
Joshua Phillips is a Managing Partner of Catalyst Health Ventures. Josh led Catalyst's investments in Novazyme Pharmaceuticals, Inc. (acquired by Genzyme Corp), BioTrove, Inc. (acquired by Life Technologies Corp), Biocius Life Sciences, Inc. (acquired by Agilent Technologies, Inc), Vortex Medical, Inc. (acquired by Angiodynamics), Allegro Diagnostics, Inc. (acquired by Veracyte), Pavilion Medical Innovations, Sera Prognostics and Cruzar Medical. He is a Director of SevenOaks Medical, Pavilion Medical Innovations, Sera Prognostics, Cruzar Medical, Saphena Medical and Kaleidoscope. Prior to joining Catalyst, Josh was a Manager at the Lucas Group, a boutique strategy-consulting firm, where he led engagements advising healthcare, life science, and technology-based companies. Josh received a B.E. in Electrical Engineering and Mathematics from Vanderbilt University and an M.B.A. from the Harvard Business School.
Jenny Rooke, Managing Director Genoa Ventures
Jenny is the founder and managing partner of Genoa Ventures, where she leverages her unique toolkit of genetics domain expertise, strategic business acumen, and venture investing to launch and empower the next generation of category-defying companies at the convergence of technology and biology. She has over a decade of investing experience beginning at Fidelity Biosciences in 2006 as a Kauffman Fellow. After Fidelity, Jenny helped establish the investing function at the Gates Foundation funding companies in genetic engineering, diagnostics, and synthetic biology. Jenny began 5 Prime Ventures in 2014 using the largest life sciences syndicate on AngleList, and achieving one of the highest-performing AngleList syndicates of any sector. Her prior investments include Zymergen, Caribou, Accuri (acquired by Becton Dickinson), and Topaz (acquired by Sanofi).
Prior to her investing career, Jenny was a management consultant with McKinsey for the pharma and biotech sector. She also served in executive management roles at U.S. Genomics leading Corporate Development and Research and Development.
Jenny studied physics at Georgia Institute of Technology and has a PhD in genetics from Yale.
Jenny's love for sailing led her to name the fund Genoa – the sail that increases performance and stability of a sailboat. She aims to help her entrepreneurs and their companies navigate the start-up life cycle with the power of her network and her experience building and advising companies to get to the final destination – value creation and category creation.
Thom Rasche, Partner Earlybird
Thom Rasche joined Earlybird as a Venture Partner in 2003 and was promoted to Partner in 2006. Since 2014 he has been Partner at Earlybird Health Management GmbH & Co. KG. Thom has more than 16 years experience as investor. Further, he is a seasoned executive in the medical device and diagnostic sectors with over 29 years of operational experience. Since he joined Earlybird, Thom has been responsible for the medical device portfolio and new investments in this area. He is currently on the board of Miracor Medical SA (Awans), Atlantic Therapeutics Ltd. (Galway), Alesi Surgical Ltd. (Cardiff) and Polares Medical SA (Ecublens). Before joining Earlybird, Thom was with Johnson & Johnson Medical Devices and Diagnostics group in various international senior management roles, lastly as Managing Director for Ethicon-EndoSurgery Germany. Thom Rasche holds a Degree as Diplom Kaufmann (MBA equivalent) from the University of Applied Sciences in Lüneburg, Germany.
Anya Roy, Head, Illumina Accelerator Cambridge, Illumina Accelerator
Illumina Accelerator is a company creation engine building and investing in early-stage startups with extensive mentorship, financial support, and access to genomics systems and lab space in the SF Bay Area and Cambridge (UK). Every 6 months, Illumina Accelerator invests in 3-5 startups advancing breakthrough applications in genomics, including therapeutics, diagnostics, agriculture, synthetic biology, software/hardware, and direct-to-consumer. Since 2014, we have invested in more than 40 companies who have collectively raised over $550M in VC funding.
At RESI, we're connecting with early-stage companies, as well as other folks to collaborate with or co-invest in our genomics-driven startups. We're also interested in connecting with academia and medical centers to recruit talented entrepreneurs to apply to Illumina Accelerator.