BIG PHARMA
Pipeline Strategy for Preclinical and Early Clinical Assets

In recent years, big pharma companies have begun looking outwards for innovative new therapeutics to add to their pipelines. This panel brings togerther speakers from various big pharma companies discussing topics such as:
How big pharma sources assets
The evaluation and investment process
Key factors of interest
How early-stage big pharma is willing to look
These panelists will shed light on the process that big pharma goes through when sourcing early-stage assets and advise startups on how they can best make a case for themselves. Panelists will also explore various trends within the therapeutics marketplace, what assets are of interest to their company, and what they think will be big in the future.
Chris Church, Manager, Search & Evaluation, CVRM AstraZeneca (Moderator)
Chris joined AstraZeneca in 2014 as a scientist, team and project leader for cardiovascular, renal and metabolic disease (CVRM) with a focus on obesity and type 2 diabetes. Chris transitioned to the AstraZeneca/MedImmune partnering and strategy team helping to coordinate in and out-licensing opportunities for CVRM together with supporting the local and international biopharma ecosystem. Since October 2019, Chris is based in the CVRM Search and Evaluation team as part of Business Development and Licensing. Prior to joining AstraZeneca, Chris obtained a First-Class degree in Molecular and Cellular Biology from the University of Bath, UK and completed a PhD at the University of Oxford and MRC Mammalian Genetics Unit, Harwell, UK. This was followed by a postdoctoral position at Yale University, USA and MBA with the Open University.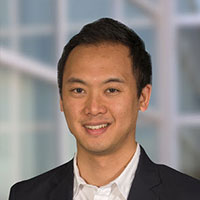 Chester Wong, Director, Business Development Amgen
Chester is a Director in Amgen's Global Business Development transactions team. Prior to joining Amgen, he was a Senior Manager within Onyx Pharmaceutical's Business Development team, which was acquired by Amgen in August 2013. Before joining Onyx, he helped lead and build Competitive Intelligence activities supporting several brands at Astellas Pharma. He led a similar leadership role for several years prior to Astellas as a Director at Deallus Consulting. Chester has BA in Molecular Cell Biology from the University of California, Berkeley and a Master of Business and Science from the Keck Graduate Institute.
Aaron Schwartz, Director, R&D Innovation Sourcing Novo Nordisk
Aaron has been a Director in Novo Nordisk's Search & Evaluation team in Global Drug Discovery since 2016. In this capacity, Aaron is responsible for the search an evaluation of new therapeutics and enabling technologies for protein, peptide, and antibody drugs. Prior to joining Novo Nordisk, Aaron worked in the MIT Technology Licensing Office for 13.5 years. During this time, he worked on license and sponsored research agreements with life sciences companies from startups to big biotech/pharma and everything in between. He also managed a portfolio of over 650 technologies. Before Aaron's time at MIT, he was a management consultant to big pharma and a startup. Aaron has an undergrad degree in biology from the University of Chicago and a Masters degree in biology from MIT.
Natalia Novac, Director, Emerging Technology & Innovation Eli Lilly & Co
Natalia Novac is a Senior Director in Emerging Technology and Innovation Team at Eli Lilly Corporate Business Development in London and is responsible for search and evaluation of novel transformative healthcare technologies across all Eli Lilly indications in Europe. In her role, Natalia is also involved in the scientific evaluation of novel life science assets coming from several venture funds where Eli Lilly participates as a limited partner. As a part of Global Corporate Business Development Natalia supports general due diligence and deal process ensuring that scientific excellence and breakthrough technologies are not overlooked.
Natalia worked in the pharmaceutical industry for the past 15 years and has a solid academic background in oncology, endocrinology, immunology and multiple sclerosis. Natalia has a Diploma in Biochemistry, MSc in Microbiology and PhD in Molecular Biology.
Stacy Feld, Head, Johnson & Johnson Innovation, West North America, Australia & New Zealand, Johnson & Johnson Innovation (JLABS)
Stacy is Head of Johnson & Johnson Innovation, West North America, Australia & New Zealand, located at the Innovation Center in South San Francisco, California. In this role, she leads the Innovation Center team to build, advance, and manage a portfolio of co-investments and collaborations spanning the pharmaceutical, consumer health and medical device sectors. Stacy is also responsible for expanding and nurturing the external networks within the innovation community, including academia, venture capital, entrepreneurs and other governmental and private organizations.
Stacy has more than twenty years of diverse business experience translating innovative science and technology into transformative commercial solutions for patients and consumers. She has held a range of leadership positions in the healthcare, biotech, life sciences and consumer health sectors as a business development executive, venture capital investor, business and innovation strategist and transactional attorney.
Prior to her position as Head of Johnson & Johnson Innovation, West North America, Australia & New Zealand, Stacy was Vice President of Consumer Venture Investments and External Innovation and a team member of Johnson & Johnson Innovation – JJDC, Inc. (JJDC). During her three-year tenure at JJDC, Stacy was globally responsible for the growth and management of the Consumer Health equity portfolio and led consumer health and health technology venture investing on the investment team. Under her leadership, the Consumer Health portfolio grew threefold, adding innovative scientific and technological solutions including branded consumer health products and digital health solutions.
Stacy joined Johnson & Johnson Innovation in 2014 as the Senior Director of Consumer Scientific Innovation at the California Innovation Center, where she was responsible for the identification, assessment and execution of partnerships and collaborations to onboard strategic value assets for the Consumer Health sector.
Prior to joining Johnson & Johnson, Stacy was a partner at Physic Ventures, a venture capital firm investing in health and sustainability, where she led investments in personalized health solutions that empower consumers to improve their health and wellbeing. Stacy has also been active in the design and execution of science-enabled innovation strategies, business incubation and spin-off opportunities, advising senior management of global enterprises in the consumer product goods industry and pre-commercial and commercial-stage start-ups in the personalized health and medical technology sectors. Prior to joining Physic Ventures, Stacy held leadership positions in the business development groups at Genentech and Third Wave Technologies and was a technology transactions attorney at Wilson, Sonsini, Goodrich & Rosati.
Stacy is an advisor to Springboard Enterprises' Life Sciences Council, UCSF Clinical and Translational Research Institute T1 Catalyst Program, a mentor for C-Sweetener and a member of the Advisory Council for the University of Texas Horizon Fund and the Investment Advisory Committee for the Reproductive Health Investors Alliance. Stacy has been recognized by Pharm Exec as a 2016 Emerging Leader and in 2018 was named in the Top 10 Global Corporate Venturing Rising Stars.
Stacy earned her B.A. in Sociology from the University of Pennsylvania and received her J.D. from Vanderbilt Law School.