BIG PHARMA
Pipeline Strategy for Preclinical and Early Clinical Assets

In recent years, big pharma companies have begun looking outwards for innovative new therapeutics to add to their pipelines. This panel brings togerther speakers from various big pharma companies discussing topics such as:
How big pharma sources assets
The evaluation and investment process
Key factors of interest
How early-stage big pharma is willing to look
These panelists will shed light on the process that big pharma goes through when sourcing early-stage assets and advise startups on how they can best make a case for themselves. Panelists will also explore various trends within the therapeutics marketplace, what assets are of interest to their company, and what they think will be big in the future.
Chris Church, Manager, Search & Evaluation, CVRM AstraZeneca (Moderator)
Chris joined AstraZeneca in 2014 as a scientist, team and project leader for cardiovascular, renal and metabolic disease (CVRM) with a focus on obesity and type 2 diabetes. Chris transitioned to the AstraZeneca/MedImmune partnering and strategy team helping to coordinate in and out-licensing opportunities for CVRM together with supporting the local and international biopharma ecosystem. Since October 2019, Chris is based in the CVRM Search and Evaluation team as part of Business Development and Licensing. Prior to joining AstraZeneca, Chris obtained a First-Class degree in Molecular and Cellular Biology from the University of Bath, UK and completed a PhD at the University of Oxford and MRC Mammalian Genetics Unit, Harwell, UK. This was followed by a postdoctoral position at Yale University, USA and MBA with the Open University.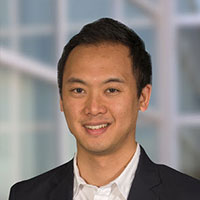 Chester Wong, Director, Business Development Amgen
Chester is a Director in Amgen's Global Business Development transactions team. Prior to joining Amgen, he was a Senior Manager within Onyx Pharmaceutical's Business Development team, which was acquired by Amgen in August 2013. Before joining Onyx, he helped lead and build Competitive Intelligence activities supporting several brands at Astellas Pharma. He led a similar leadership role for several years prior to Astellas as a Director at Deallus Consulting. Chester has BA in Molecular Cell Biology from the University of California, Berkeley and a Master of Business and Science from the Keck Graduate Institute.